Superior legal representation at an affordable rate!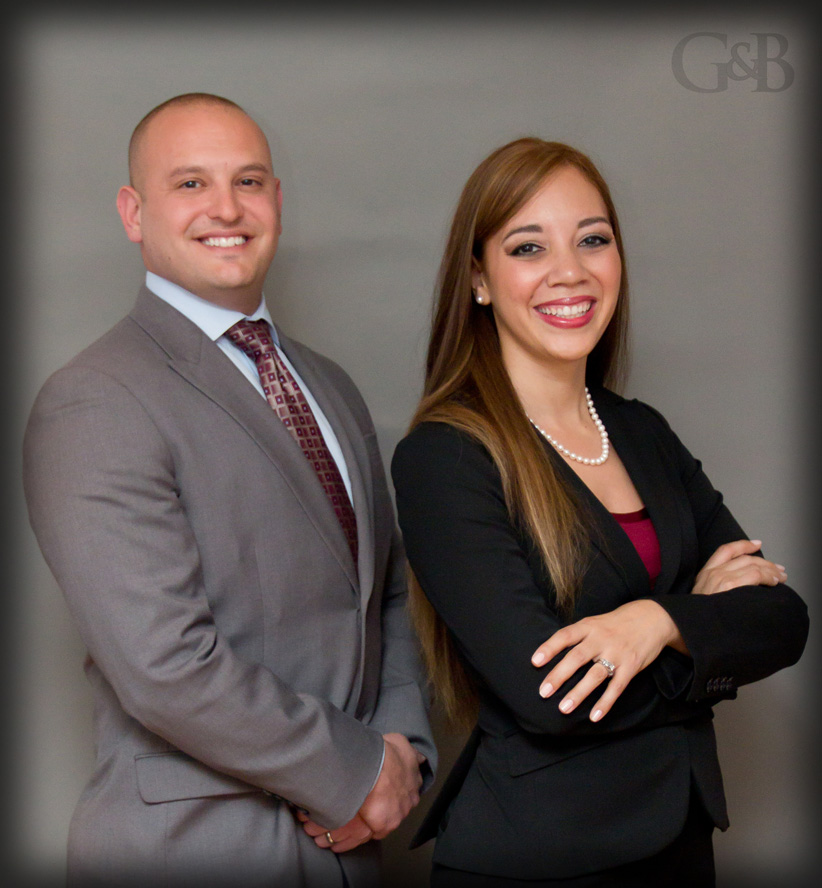 Ghantous & Branch, PLLC (G & B Attorneys) is an Orlando-based boutique law firm that strives to provide superior legal representation at an affordable rate. We primarily focus on financial, business, real estate, and family law. At G & B Attorneys, we have dedicated our practice to maintaining the highest level of professionalism, honesty and integrity. Above all, we endeavor to treat every client and case with compassion, understanding and respect. We offer a small office feel to maximize comfort and ensure all prospective and current clients feel welcome. Although we maintain a small office feel, we handle all types of cases, big or small. Give us a call to discuss your legal issue.
– Ryan N. Ghantous and Melanie Branch
     Call G & B Attorneys  (407) 270-7939
"I would undoubtedly recommend Melanie Branch to anyone seeking a Real Estate Attorney in the Orlando DMA. She is very smart and speaks with so much confidence, has a wealth of knowledge, responds quickly to any needs/questions and is an overall pleasure to work with. She certainly went above and beyond my expectations of her with my foreclosure case."
"We engaged Ghantous & Branch to defend us in a complex civil case that had been going on for multiple years. Before retaining Ghantous & Branch we had engaged two other firms that ultimately removed themselves from the case with little accomplished other than the exhaustion of the retainers paid to them. By contrast, Ghantous & Branch quickly went on the offensive, going toe-to-toe with an aggressive opposing counsel. The outcome was a timely settlement that was highly favorable for us, completely exceeding our expectations. While singularly focused on finding a solution, Ghantous & Branch were very pro-active, responsive and supportive to us throughout the entire process. We could not have asked for a better experience in resolving a bad situation."
"We have been more than happy with the services of our attorney Ryan Ghantous and his team. They have been exceptionally patient with us with our emails and phone calls asking all sorts of questions and regular updates. Each communication is dealt with professionally, efficiently, promptly and in such a manner as to put our minds at ease. As we know legal issues can be extremely stressful but having someone working with you who you trust makes it so much easier to cope with on a daily basis. We are nearing the end of one of our cases, in which Mr. Ghantous has fought tirelessly in the district and appeal courts, which has not only allowed us to start negotiations with our mortgage lender and we can now see light at the end of the long tunnel. We would not hesitate in recommending G & B Attorneys to anyone with concerns and unsure of what to do in their situation."
"We cannot thank Ryan Ghantous and his team enough for their effort and professionalism in winning our appeal to take our home out of foreclosure, the way they fought against the Bank was nothing short of amazing. Our efforts to deal with our bank fell on deaf ears until they took up our case and even though at times we thought that all was lost they never gave up the fight. Ryan and his Paralegal have kept us informed on the case at regular intervals and were always at the end of the phone whenever we called, I would recommend their services to all. And to anyone sitting there worried, whatever you're situation give them a call they can and will help you, Fantastic Firm."
"Ryan and Melanie are an amazing team! We retained them to assist with several real-estate matters. Not only do they know what they are doing, they are compassionate and will fight for you. Definitely recommend them to anyone who wants amazing and highly competent legal representation. They were so professional, thorough, and great with communication. Any questions we had were answered. We really appreciate their hard work. Within the past 5 years, I've had several experiences with several different attorneys/law firms and I can honestly say Ryan and Melanie by far exceeded my expectations. They are also very patient in explaining everything to make sure you understand what is going on. This is a place I will recommend to my friends and family when they need legal advice."
"I am grateful for all of your help, thanks again."
"The experience we just went through was quite an eye opener. I hope I have the wisdom God was trying to give me by going through this … I have appreciated your help in this — and not just the legal expertise. I am truly grateful for the patience your team showed me and the courtesy I received. Your team promptly responded to my many questions no matter which form of communication I used."
"I was referred to Melanie Branch by a good friend, and she took over a lingering case I had pending for YEARS! From the initial consultation we did till the very end, I felt super secure that she had my best interest at heart, her and the entire team were always keeping me updated, and very clear and forward with what needed to be done. I am so grateful that after years of pending Melanie and Ryan were able to prepare a great case for me and I am whole heartedly thankful for the end result. Going through family law can be very hard and painful but she made my final mediation clean and smooth. I would recommend this office to anyone that needs guidance and a strong support to lead through hard decisions. Thank you so much Melanie, Ryan and Helene I appreciate you dearly."
"I recently had an unexpected legal issue come up and I had no idea what my next step should be. When I contacted Ryan with Ghantous & Branch, he immediately eased my concerns and dove right into resolving my issue. For something that could have easily taken a year or more to resolve, he had the entire issue definitively resolved in a matter of months with an extremely favorable outcome. The professionalism, respect and attention demonstrated by the entire firm was nothing short of exceptional. I would absolutely use them again if I have any legal issues or concerns in the future and I highly recommend them for anyone who needs legal assistance."
"I have used Ghantous & Branch for several issues that have come up over the years. They are a prompt, diligent, and cost-effective solution when needing guidance. They pay specific attention to details that other firms may miss. I would highly recommend working with Ghantous & Branch for legal needs that may arise. Simply the best."
"Would highly recommend Melanie and Ryan for any family law matter. Our family retained Ghantous & Branch to assist with several matters. The first time was to help my husband get more time with his daughter. The result was that we got everything we asked the court for, including more time and other things that were for the benefit of my step-daughter.
The second was to help determine an address for school designation. The result was that the motion was granted. Both times, Melanie and Ryan were professional, took the time to explain the situation and develop a strategy in consultation with our family. They did their research and knew what they were talking about so that there were no missteps. I have full confidence in their professional abilities and will retain them for any family law matter, or any other area of law they practice."
"Highly recommend! Melanie and Ryan gave us consistent results throughout my husbands case. They are a great team. They were so professional, thorough, and great with communication. Any questions we had were answered. We appreciate their hard work within the past 4 years."
"Melanie and Ryan are amazing! I retained them to assist with a family law issue. Not only do they know what they are doing, they are compassionate and will fight for you. Definitely recommend them to anyone who wants amazing and highly competent legal representation. They helped me get favorable results quickly."
"Ryan and his team helped me with my case against my community's HOA. The HOA had wrongly placed my home under foreclosure because I paid the incorrect amount of dues. The case had been going on for 5 years during which Ryan's firm was extremely supportive and helped me get out of the legal mess. Ryan and Melanie always explained legal jargon to me in regular English and made things easy to understand. They helped me with two cases which both ended successfully and according to my terms.
The entire ordeal was very stressful but Ryan and Melanie were always supportive, calm and knowledgeable which I appreciated the most.
Thank you so much for all that you did!!"
"I sought legal counsel for my dissolution of marriage back in 2020. It was a very challenging year for my kiddos and I. Nonetheless, I had peace knowing both Ryan Ghastous & Melanie Branch are both very knowledgeable in court proceedings. Grateful and thankful for you both!
I would definitely recommend!"
"If only there was an option for 6 stars!!! Melanie was great, professional and extremely efficient in everything she had done for me. I've already recommended her and Ryan to a few of my colleagues!"
"Professional lawyer, does his job well and does his homework. Him and his clients are always winners. Thank you very much!"
Let us give you a fair and confidential evaluation of your situation.