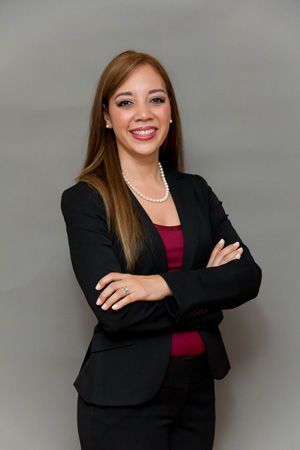 Melanie joined the legal profession to help give a voice to those who were unable to speak for themselves. Her goal is and always has been to represent her clients zealously, assist in obtaining a client's desired objective, and fight for what's right. Melanie understands that facing a legal issue can be emotionally draining, but she is committed to assisting with any legal issue and crafting a specifically tailored plan of action to accomplish the appropriate result with grace and compassion.
Melanie was born in the Bronx, New York. After graduating from Cardinal Spellman High School, she attended Colgate University in Hamilton, New York where she earned her Bachelor of Arts degree in Philosophy. Before attending law school, Melanie worked for a real estate law firm in White Plains, New York. She then went on to pursue her Juris Doctorate at Barry University School of Law in Orlando, Florida. Immediately after completing law school, Melanie was admitted to the Florida Bar.
Upon being admitted to the Florida Bar, Melanie worked for a private law firm practicing in many areas of law and worked her way from being an associate attorney to lead attorney who trained many new attorneys at the firm. In November 2014, Melanie and her business partner, Ryan N. Ghantous, Esq., formed Ghantous & Branch, PLLC in Orlando, Florida. She practices in many areas of law including; Family Law, Foreclosure Defense, Consumer Law, Commercial Law, Bankruptcy, Personal Injury, Asset Protection, Appeals, Civil Litigation, Probate and Estate Planning,
Court Admission: U.S. District Court, Middle District of Florida
On a personal note, Melanie was drafting letters to the NBA Commissioner arguing the injustices she saw on the television at ten years old, while other girls her age were playing with nail polish and braiding their hair. Clearly, for Melanie fighting for the right cause is not just a job but a way of life, ask any of her loved ones.
Please Call 407-270-7939  for a consultation to discuss your legal issue.